Showers have been used for many longs years by now and is one the vital bathroom fixture in every home. Even so, it might be challenging to pick the right one or the most appropriate for your house since there already a lot of choices to choose from. To be guided in your decision, here is quick overview of each kind.
I.    Bath/Shower Mixers
The hose and spray on this sort of shower are combined with a bath mixer tap, and the temperature can be adjusted with the bath taps. It is simple to install as a replacement for existing bath taps. The tap(s) and shower flex are one unit and if the shower is used or the taps are used could be determined manually by using a lever. The spray head could be screwed off and on the flex. It is a really cheap alternative and no extra plumbing is required. But, the bath/shower mixers also have problems with bothersome temperature control possibilities.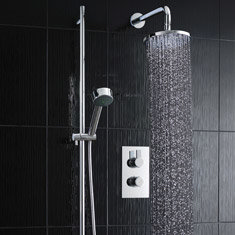 II.    Manual Shower Mixers
Mixer showers are often called as this since they are a combination of the hot and cold water sources (inside of a valve) before it is available at the shower head. They depend on a person to alter the shower temperature level when variations in water pressure set off temperature changes. One of the strengths of this type is that temperature level and flow correction is very simple as the controls are more accessible in comparison with bath fillers.
III.    Thermostatic Mixers
It's an ideal selection for schools, medical facilities and open spaces because of the inbuilt stabilizer unit which produces constant water temperature. It has a fixed wall unit, a hose, water spray and a valve. This kind of shower has the ability to control the flow of water and to combine cold and hot water to obtain the ideal water temperature. It really is user-friendly for its ability to instantly adjust temperature of water and pressure.
IV.    Electric Showers
An electric shower is plumbed in to a mains cold water supply and it heats the water electrically. The device allows the temperature and pressure to get adjusted via a knob. Models with temperature stabilizers be more effective because they remain unaffected by other taps elsewhere in use within the household. It must be installed on its own circuit and not spurred from any other connections or equipment.
V.    Power Showers
This product is a lot like a thermostatic mixer shower in that it brings together cold and hot feeds, however it does so by using an integral pump – therefore, the need for a power source. It supplies a great shower experience with a great deal of water pumped out. Even so it could be a high-priced fitting, as plumbing & electrics will also be essential.