Planning is the key when taking on a project that involves removing your roof. Before you plan your 2nd story, research what obstacles will need to be dealt with.
When you need to add space to your home and don't want to expand farther out onto your property, the only place to go is up. Adding a second story can double the living space and is an exciting change for you and your family, but there are a few things to consider before getting underway with this remodeling project.
Make sure it's allowed.
Discuss with your remodeler how local zoning and health regulations may affect your plans. Rules and regulations, such as allowable "Floor Area Ratios", "Lot Coverage", and "B100" are critical to know about up front before you start designing and building.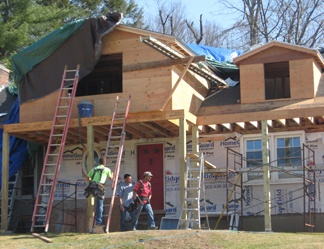 Check the foundation and structure.
Your home's foundation and framing might have been structured to support only a certain amount of weight. Before increasing the load, have your contractor examine the foundation and current structure to determine what structural reinforcement needs to be done to support an additional structure.
Determine the size of the second story.
Some people add a full second story to their home, while others might just want a partial addition.
Here are some bullets
so that you can see
how they stick out to the left.
We recently expanded a home by adding a second story bedroom and some dormers. Your decision might be based on space needs, budget, or both. If you expect that you will need more space in the future but don't have the budget now, consider building the second story area you need, but saving the finish work for later. It's more cost-effective to do the structural work all at once than to go back and add to it in the future.
You don't need to know exactly where and how large each room will be. You don't have to have figured out where the staircase will fit best or the right placement for the bathroom plumbing. A good Design-Build remodeler can take care of drawing up the plans based on understanding what you want the second story add-on to achieve.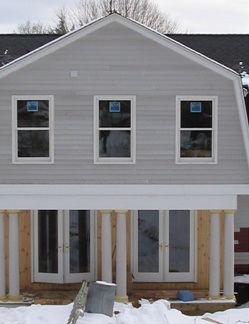 When you add a second floor to your home, you will likely want to make changes on the main floor. You probably have one or more bedrooms that will move upstairs, so what do you want to do with those rooms once they are vacated? Do you want to create a larger space by knocking down walls?
Read more: http://www.clarkconstruction.net/blog-page/moving-up-7-addition-tips