Stairlifts are a vital improvement to any home where the resident struggles to climb up or down the stairs. They help to remove the need to struggle, and are a much cheaper alternative to converting downstairs rooms into a bedroom or bathroom, and definitely much cheaper than moving to a single story home or bungalow.
Do you need a stairlift?
The first thing you need to do is be sure that having a stairlift can make life easier for you.
If getting up and down the stairs has become too much of a daily struggle, then you may wish to consider living downstairs, or moving into a bungalow or ground floor flat. If you are thinking about changing to a ground floor living space, then one major concern to take into account is the availability of bathroom facilities: we also provide an extensive easy bathing range of walk in baths and showers. However, installing a stairlift is often a more practical and cost-effective option, and it means less of a change to your lifestyle, allowing you to carry on living independently in your own home.
Once you have decided that a stairlift is the right option for you, it is important to choose the stairlift that will best suit your requirements.
Before you buy a stairlift
As with all major home improvement purchases, there are options to think and talk about with friends, family and professionals before you buy a stairlift:
It is useful to contact an Occupational Therapist (OT), who will be able to offer you guidance on the best solution for your individual requirements.
If you know someone who owns a stairlift, have a chat with them. That way you can get an honest and unbiased opinion about the advantages of having a stairlift, as well as some suggestions about what questions to ask the stairlift company.
There are a number of companies with good reputations across the county, get in touch with them to compare products, prices and services they offer to help you access your options.
Reliability and safety are the main factors to consider. Don't let cold callers rush you into making a purchase, take your time.
Requesting a free stairlift brochure and information pack is a great way to compare products that you may consider for your home.
---
Which is the best stairlift for you?
There are various types of stairlift and it is important that you choose the one which best suits your current needs, as well as consider how your health and home may change in the future.
Before the installation of your stairlift, your stairs will be accessed by an expert for recommendations not only for the product, but your individual safety too.
Seated stairlifts
These are the most popular model of stairlift, where the user can sit comfortably on a seat that swivels at the top of the stairs to make it easier to go from sitting to standing. It is recommended that if you are in need of a mobility aid that is bigger than a walking stick, then make sure you have two of each at the top and bottom of the stairs, as it is not possible to carry anything bigger on a seated stairlift.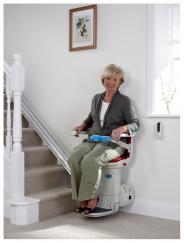 Perch Stairlifts
Perch stairlifts are better suited to those who find sitting difficult, or uncomfortable. These are very similar to standing stairlifts, but support the user underneath the buttocks, meaning that there is less of a need to move hip or knee joints. The stairlift also include a retractable seatbelt to ensure that the users feel safe and secure.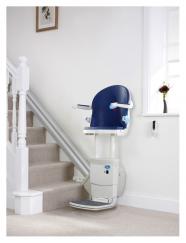 Straight Stairlifts
Straight stairlifts will only travel up a straight staircase, and they tend to be the cheaper option, with installation usually complete in just a few hours. Straight stairlifts are fitted to the stair tread rather than the wall of the staircase, so you needn't worry about having to sort out painting and decorating work. Straight stairlifts are powered from the mains, and are available with a battery backup option in case of power failures, for your peace of mind.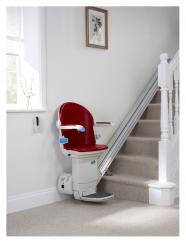 Curved Stairlifts
Curved stairlifts are able to go round bends in the staircase, as well as glide across landings or half landings. All Handicare curved stairlift tracks are made to order, to fit each individual staircase. Curved stairlifts operate on a rail that fits very closely to the wall, even on tight bends, freeing up more space on the staircase. Most curved stairlifts run from rechargeable batteries, which are constantly topped up from charging points at the top and bottom of the stairs. The seat needs to be in the right place to charge, and there is a warning beep if it is in the wrong place.
Read more: http://www.ageukmobility.co.uk/stairlifts-buying-guide