A fabric sofa set is an ultimate piece of luxury and comfort like all other sofa sets are supposed to be, but this sofa generally caters to the comfort and luxury needs of people.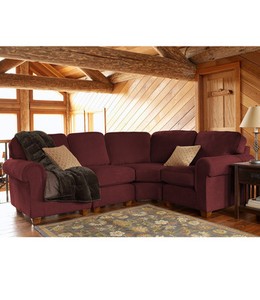 The sofa is typically the centerpiece of a living room or a family room. As the primary seating for the home, sofas will often suffer significant wear and tear. Guests sit on them, children play on them, families relax on them for hours as they watch a movie or enjoy a video game on the console of their choice. Wherever it is placed in the home, the sofa's fabric will eventually be worn so much that users will want to re-cover or replace it. Whether users plan to buy a new sofa or they plan to reupholster their old one, they will need to know some essential facts aboutsofa fabric so that they can choose the best type of fabric for their specific needs. This guide will explore a number of factors that can affect fabric selection for a sofa, and it will suggest some places to buy either a new sofa or the actual fabric for a reupholstery project.

Placement and Purpose
As buyers shop for their new sofa, they will first want to consider the location of the sofa that they are replacing or re-covering. The sofa may be a beautiful showpiece in the living room of a retired couple, or it may be a central seating area in the living room of a large family. Perhaps the sofa is in the basement or family room, where teens and their friends lounge on it, balancing pizza and drinks as they share laughs over a favorite TV show. Maybe the sofa is in the apartment of a few college students who own pets. The sofa's location typically affects the level of use that it will experience. A sofa in a high-traffic area will need a sturdy, strong, easy-to-clean fabric, while a sofa in a quiet room (such as a little-used sitting room or guest bedroom) can boast fine and luxurious upholstery.

Common Types of Sofa Fabric
The range of fabrics that is used as sofa coverings is vast and varied. However, a number of fabrics can be classified as common materials used to reupholster sofas. These include leather, faux leather, vinyl, microfiber, textured cotton, cotton polyester, and sometimes nylon.
Leather
Leather sofas are classy, timeless, and generally comfortable. If buyers are considering the purchase of a new leather sofa, or if they want their old, worn sofa re-covered in leather, they should first think about the expense that is involved. Leather is one of the most costly types of material that can be used for a sofa. It offers limited durability, allowing for easy cleanup of spills and most stains. However, it can be scraped, ripped, or cut by common items like pocket knives, keys, belt buckles, and other metal objects. It also tends to feel sticky and uncomfortable during hot summer days. Since leather sofas are easy to brush, sweep, or wipe, they are considered an ideal choice for households that have babies, toddlers, or pets that shed a lot of hair. The leather provides a certain level of protection for the interior padding of the sofa, making it more resistant against water damage and against embedded dirt or grease that might eventually cause the sofa to smell. Leather sofas usually give off little or no smell, even after years of use. Some sofas employ faux leather as a stronger, cheaper alternative to real leather. Artificial leather is almost as attractive as the real thing, and it provides great value and durability for the price.
Vinyl
Vinyl is a synthetic material that is sometimes used as a sofa covering. Its supple, elegant look is similar to that of leather. Vinyl is easy to clean and is rarely susceptible to stains. Although it can be ripped or torn by sharp objects, it can withstand years of normal wear and tear without becoming noticeably worn.
Textured Cotton Fabric
Sofas that are covered with a textured cotton fabric should not be placed in a highly trafficked room. Because of their textured quality, worn patches will begin to show up more quickly on a textured sofa. Textured cotton also tends to accumulate dust, grit, and dirt in its tiny crevices. If the sofa is not cleaned frequently and deeply, these miniscule bits of dirt  …
Read more: http://www.ebay.com/gds/What-Is-the-Best-Sofa-Fabric-for-My-Needs-/10000000177628308/g.html