"Parents should check that the products are age-appropriate and ensure that children are supervised during use. Avoid giving your baby stuffed toys, pillows and other loose items as there is a risk of suffocation, especially to babies younger than five months who cannot yet roll and push items away."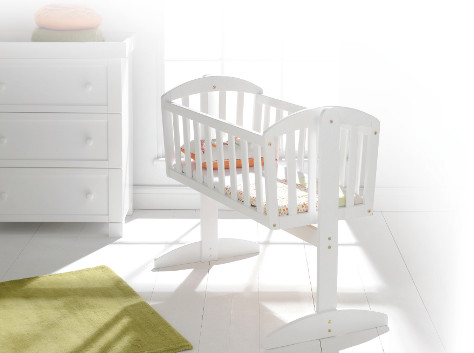 A crib (or cradle) is the ideal first bed for a newborn, and can be more cosy and welcoming than a full-sized cot. They are often slightly larger in size than a Moses basket, and can be used for the first four to six months of your baby's life.
What to look for
Cribs are usually wooden, but some newer models have metal frames. You can choose between swinging and static cribs.
A swinging crib is useful for rocking your baby to sleep, just make sure that it can be locked into a static mode too for when your baby would like to be still! You can also buy cribs that resemble hammocks, whose swaying motion is especially good for soothing very fractious babies.
Read more: http://www.bounty.com/pregnancy-and-birth/preparing-for-your-new-arrival/nursery-cribs-cradles